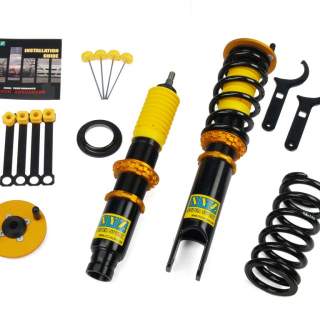 XYZ SS coilover kit
XYZ coilovers are a nice budget option for lowering and customizing the suspension on your NSX. Price vs quality ratio is very good, and for those who wish to just lower there NSX and have flexibility in spring rates this makes a good option. Super …
Excluding Tax
Stock Status:
please contact us.
---
---
XYZ coilovers are a nice budget option for lowering and customizing the suspension on your NSX.
Price vs quality ratio is very good, and for those who wish to just lower there NSX and have flexibility in spring rates this makes a good option.

Super Sport damper enables you to adjust the ride height and has 30-way dampening adjustment.
In other words, your car with this system can be set to meet all different road conditions.
This high performance damper is suitable for both weekend race and daily use.

We can supply a additional springs in in ratings suiting your needs.
This makes the XYZ a good "tuner" option for those wishing to dial in a custom setup whilst on a budget.

A.S. Motorsport has tested these coil overs, (other wise we'd not offer it to our clientele)
We've run XYZ coilover kit on 1 race car and 4 street cars for evaluation purposes.
The quality is good and durability is good as well. (Comparative testing vs BC racing and D2 Racing)

We offer all replacement parts for servicing your coilover kit.