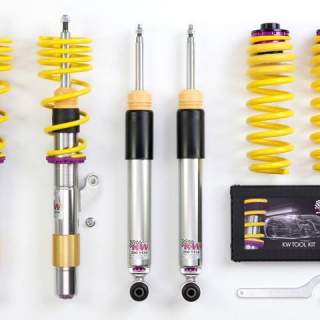 KW V3 coilover kit
Advanced technology from motor sport With the KW coilovers Variant 3 "inox-line" you will get much more than just a sporty lowering and excellent driving behaviour on all roads. It is based on our long experience as a suspension …

Excluding Tax
Stock Status:
please contact us.
---
---
Advanced technology from motor sport
With the KW coilovers Variant 3 "inox-line" you will get much more than just a sporty lowering and excellent driving behaviour on all roads. It is based on our long experience as a suspension manufacturer and supplier for international motor sport, such as the touring car series ADAC GT Masters, FIA GT1, FIA GT3, International GT Open, WTC, VLN and the legendary ADAC Zurich 24h-race Nürburgring.
Similar to our racing coilovers from the KW Competition program, the KW coilovers Variant 3 "inox-line" can be adjusted independently in compression and rebound damping. This individual adjustment possibility is much appreciated by sports car manufacturers, tuners and drivers worldwide.
High quality, individual and durable
The KW coilover Variant 3 "inox-line" kit and every single damper are subject to extensive quality tests during production to meet the high standards of our KW quality management. This is the only way we can meet our expectations to give up to five years warranty on our KW coilover Variant 3 "inox-line" when installed at one of our KW specialist dealer. KW coilover struts made of stainless steel are 100% rust-free and an unlimited life time.
Therefore the operation of the continuous lowering via the dirt-resistant KW trapezoid thread and the KW composite collar is also not affected after years. By the individual lowering with its continuous adjustment range, you can emphasize the sportiness of your vehicle visually. A feature that is very popular in the performance-oriented tuning scene.
Rebound and compression damping adjustable damper technology
Stainless steel technology "inox-line"
> Individual, continuous lowering
> TÜV-tested adjustment range
> High quality components for a long life
> Complete documentation for an easy handling
> Adjustable rebound damping with 16 exact clicks
> Adjustable compression damping with 12 exact clicks
> Unique, independent from each other working damping force adjustment