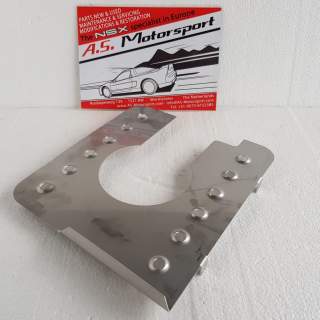 Oil pan baffle
     During high speed cornering, braking, and acceleration experienced under aggressive driving, Oil is thrown away from the oil pick up point in the oil pan which may cause the oil pick up to run dry. This baffle is inexpensive insurance …

Excluding Tax
Stock Status:
please contact us.
---
---
During high speed cornering, braking, and acceleration experienced under aggressive driving,
Oil is thrown away from the oil pick up point in the oil pan which may cause the oil pick up to run dry.

This baffle is inexpensive insurance against expensive engine repair,
Baffle is designed to rest immediately above a running engine's oil level in the pan to keep oil at the bottom of the pan available to the pick up.


SHIPPING INFO:
Europe:
Shipping costs, €13

USA / Canada:
Shipping costs, €27

Australia/Asia:
Shipping costs, €30


PLEASE NOTE:
Due to exchange rates and the fuel surcharge on shipments prices vary day to day.
Therefore all prices listed on this site are purely indicative, generally they are right but may vary.

Please contact us we will advise and make a personal quotation.
Making sure that not only you have the optimal product but also the best service.

Since the cars we deal in are mostly hand made or customized there are a lot of specific variables.