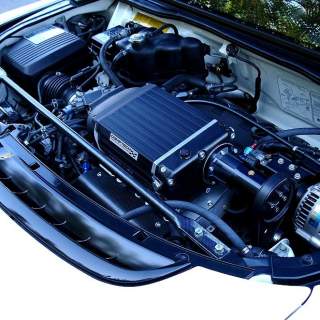 CT Supercharger kit
The most well known and common forced induction option for NSX; CT-Engeering's supercharger kit (formely known as "CompTech") OEM like reliability, build quality and appearance, adds 70HP to the rear wheels in low boost on a stock NSX. …

Excluding Tax
Stock Status:
please contact us.
---
---
The most well known and common forced induction option for NSX;
CT-Engeering's supercharger kit (formely known as "CompTech")

OEM like reliability, build quality and appearance, adds 70HP to the rear wheels in low boost on a stock NSX.
This kit comes as a full bolt-on package with everything required.

The first thing that you'll notice is the huge amount of extra torque trough the whole rev range.

A properly tuned "high boost" running a stock motor should be good for 400HP that makes for a modern supercar power to weight ratio.

These CTSC systems as they are known among enthusiast have been in uses for nearly 20 years.
Reliability is unmatched, Acura even raced the kit in the late nineties on there famed "real time racing" GT NSX.



Please contact us for detailed information and quotation for a turn-key package or full build.
For NSX-T (targa) there is a €500 surcharge for the billet targa brace.


SHIPPING INFO:
Europe:
Shipping costs ASK

USA / Canada:
Shipping costs ASK

Australia/Asia:
Shipping costs ASK


SPECIALIST INSTALLATION IN OUR SHOP:
Without fine tuning, €650 excl vat

PLEASE NOTE:
Due to exchange rates and the fuel surcharge on shipments prices vary day to day.
Therefore all prices listed on this site are purely indicative, generally they are right but may vary.

Please contact us we will advise and make a personal quotation.
Making sure that not only you have the optimal product but also the best service.

Since the cars we deal in are mostly hand made or customized there are a lot of specific variables.