Braided Stainless Steel Brake Lines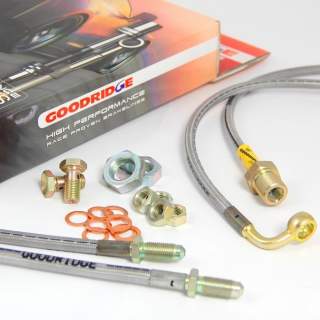 Braided Stainless Steel Brake Lines
The Goodridge Brake hose Kit for NSX features the finest quality hose, consisting of a PTFE inner with a stainless steel outerbraid. This eliminates the spongy feel under arduous conditions, giving greater braking efficiency as well as providing …

Excluding Tax
Stock Status:
please contact us.
---
---
The Goodridge Brake hose Kit for NSX features the finest quality hose, consisting of a PTFE inner with a stainless steel outerbraid.

This eliminates the spongy feel under arduous conditions, giving greater braking efficiency as well as providing superior resistance to abrasion and corrosion. These kits, therefore, not only provide the reliability and safety demanded but offer brilliant good looks that improve the appearance of any installation.

SHIPPING INFO:
Europe:
Shipping costs €13

USA / Canada:
Shipping costs €27

Australia/Asia:
Shipping costs €35

PLEASE NOTE:
Due to exchange rates and the fuel surcharge on shipments prices vary day to day.
Therefore all prices listed on this site are purely indicative, generally they are right but may vary.

Please contact us we will advise and make a personal quotation.
Making sure that not only you have the optimal product but also the best service.

Since the cars we deal in are mostly hand made or customized there are a lot of specific variables.