KW v3 coilover kit (SKYHOOK)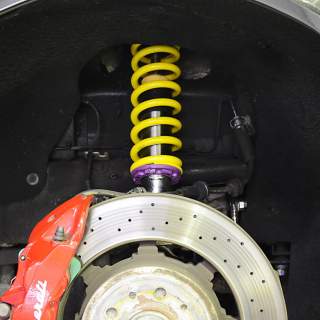 KW v3 coilover kit (SKYHOOK)
Lowers your Quattroporte 15-30mm in the front and 15-30mm in the rear, this kit is  compatible with Skyhook. (we have a non Skyhook version) Please specify the build date of your Quattroporte due to difference in mounting setup. With KW …

Excluding Tax
Stock Status:
please contact us.
---
---
Lowers your Quattroporte 15-30mm in the front and 15-30mm in the rear, this kit is compatible with Skyhook. (we have a non Skyhook version)
Please specify the build date of your Quattroporte due to difference in mounting setup.
With KW Street Comfort coilovers you can influence the handling and comfort by the individually adjustable rebound and compression damping.
With 16 precise clicks, you can adjust the KW dampers to a be more comfortable or a little firmer without affecting the compression damping.
By increasing the rebound force with the adjustment wheel, the body movements are reduced. You will have more directional and cornering stability.
If you change to bigger wheels than the wheel / tire combination which came from the car manufacturer, you can adapt the rebound damping to the driving behavior of your car and your new alloy rims perfectly.
You can also reduce the rebound forces with a few clicks to gain even more comfort - just as you have always desired from a sport suspension.

The KW Street Comfort coilovers made of stainless steel technology "inox-line" enable a vehicle-specific lowering within the TÜV-tested adjustment range of 10 to 40 mm.
So you do not have to accept a fixed lowering of a conventional spring kit any more.
Due to the delicate processing and use of high quality components, the KW Street Comfort coilover struts in stainless steel are 100 percent corrosion-resistant and have an unlimited life.
The functioning of the lowering in connection with the dirt resistant trapezoid thread and the composite collar will not be affected even after many years of driving.
With the individual lowering adjustment range, you can emphasize the sportiness of your vehicle visually.

- Stainless steel technology "inox-line"
- Minimum lowering
- TÜV-tested adjustment range
- High quality components for a long life
- Comfort-oriented damper setup
- Adjustable rebound damping


SHIPPING INFO:
Europe:
Shipping costs €13
USA / Canada:
Shipping costs ASK
Australia/Asia:
Shipping costs ASK

PLEASE NOTE:
Due to exchange rates and the fuel surcharge on shipments prices vary day to day.
Therefore all prices listed on this site are purely indicative, generally they are right but may vary.

Please contact us we will advise and make a personal quotation.
Making sure that not only you have the optimal product but also the best service.

Since the cars we deal in are mostly hand made or customized there are a lot of specific variables.